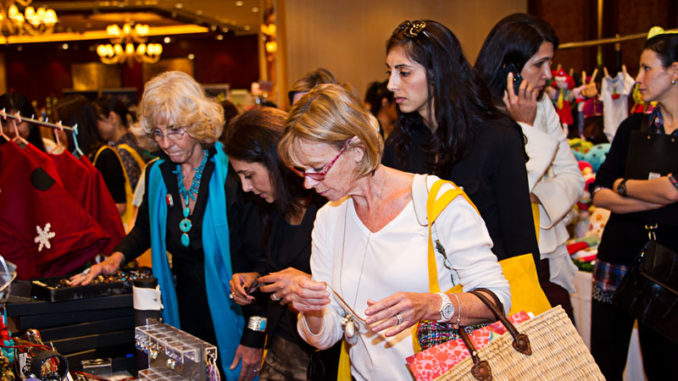 The scent of Christmas tickles your nose. Your eyes are met by shining red, gold and white Christmas decorations and ornaments. And you know you have the chance to go home with amazing Christmas presents for you and your family.
And I want to tell you that, my favourite Prestige Fairs has it all. Step into Conrad Hotel decked with bells, garlands and ribbons and be warmly welcomed by delightful Christmas markets put together by Prestige Events which empowers startup entrepreneurs through networking and product/services selling opportunities at Conrad since 90s. Every year, they attract 3000 shoppers on average to come and browse through the stalls selling fine wines, food and beverages, beautiful homeware, baby and children apparel, jewellery and clothing, shoes and handbags, a variety of gift items, and much more.
Take a look at these start-up entrepreneurs and what they are going to offer at Prestige Fairs:
Ana comes from a design background with extensive experience in interiors, graphics, fine art, photography, textiles and architecture.  Having visited various professional trade fairs around the world, she found there is still a big market where she could offer finest pearls of different shapes, sizes and colours, and have skilful artisans to string them up into gorgeous, unique, and fairly priced jewellery.  Ana will be selling her jewellery at Prestige Fairs on November 29th.
Charade from VICIOUSVENOM's ELEMENTS 
What I admire Charade is their commitment and passion in producing waterproof bags that seamlessly merge outdoors functionality with a contemporary minimalist urban-chic aesthetic. Lightweight and stylish, so you can definitely carry it from work to play, rain or shine.  I'm so excited seeing their Kickstarter project that was completed (fully funded and goal achieved) earlier this year.  Charade and her team have also just exhibited at Liberty Fairs in Las Vegas,
Who's Next in Paris, and White Show in Milan. And here they come at Prestige Fairs on December 8th!
Exercise & Massage with Spoonk
Exercise time?  Or massage time ! I really miss this massage mat when I bought my first one a few years ago, and so excited to see the same product coming back!  Spoonk was born out of compassion towards people who experience a lack of deep sleep, tension and muscular pain. The mat has the optimal number of 6210 acupressure stimulation points for the highest effect. It stimulates specific reflex points throughout the body, releases blocked energy, eases tense muscles, and creates deep mental and physical relaxation. It can induce deep sleep in 35 minutes and provide deep tissue massage. Using an assistance tool before and after an exercise program also help energize the muscles, create a centering effect and help relax tense muscles.
Will see them at Conrad Hotel on November 29th and December 8th!
Living in a virtual age, there is nothing more heartwarming than giving or receiving a handwritten card.  The premium quality stationery from Pen & Paper House adds an element of sincerity and thoughtfulness to your words.  Their paper and envelopes are of the finest quality, and they also offer envelope liners to give your cards an added touch of luxury.
They offer custom design too, and can transform children's artwork it into a unique correspondence card ~ "Crayon to Card".
They will be exhibiting these great designs and cards on November 29th!
If you are looking for some unique presents that carry a bit of Oriental vibe into your space, have a look at all these great pieces from Anat Givon, a photographer & digital artist, who turns her images into colourful & highly creative cushions & bags.
Hand poured in the U.S.A. with their premium waxes, Bungalow No. 9 and Archipelago Botanicals, leading Home Fragrance brands in the U.S.A. , which are also on the shelves at Harvey Nichols,  will have their scented Jar Candles and Room Diffusers offered for sales at Conrad Hotel on December 8th.  Highly fragrant, safe to use, and are sure to entertain your guests.
Cute and Safety Box for Parents & Kids!
Chia Shen has just opened her online retail shop Chez Chia in June this year,  She decided to join Prestige Fairs to sell her home and personal safety products such as smoke/carbon monoxide alarms and home testing kits which are essential to every home.  Look at the cute designs and Chia will have all these items offered for sales on December 14th.
Pamper yourselves to get ready for the Christmas?
Need some indulgence before all the Christmas parties? A Beauty Bar offers organic and natural lifestyle products, including hair care, makeup, body care, skincare, nail care and home fragrance.
Most of their brands are made with certified organic and natural ingredients, which are good for both human body and nature. They will be offering great products on December 14th at Prestige Fairs.
With over 150+ vendors exhibiting at different days, what are you waiting for?  Will you join me at the  
Prestige Fairs
 to make some great networking while we do our own Christmas
shopping? Only 3 more fairs before we step into 2017!
Dates:  29/11, 8/12 and 14/12
Time: 10am to 8pm
Venue: Grand Ballroom, Conrad Hong Kong, Pacific Place, Hong Kong
If you are also interested to exhibit and get your things sell, email me at jane@achieversminds.com for all kinds of collaboration opportunities!